Going out during this period isn't good idea but some things just must be done (not really).
Anyway, the day started with Popfes. As the entry ticket was numbered, the fate is more or less predetermined. At least they have allocated goods for each entry period but that didn't help me getting a T-shirt for a friend. I did get my soundtrack though so all is good.
I also ended up buying Kinkoi T-shirt. I've been considering it for a while and figured out why not.
On my way out from the event area, I noticed there's Tora no ana event right next to it.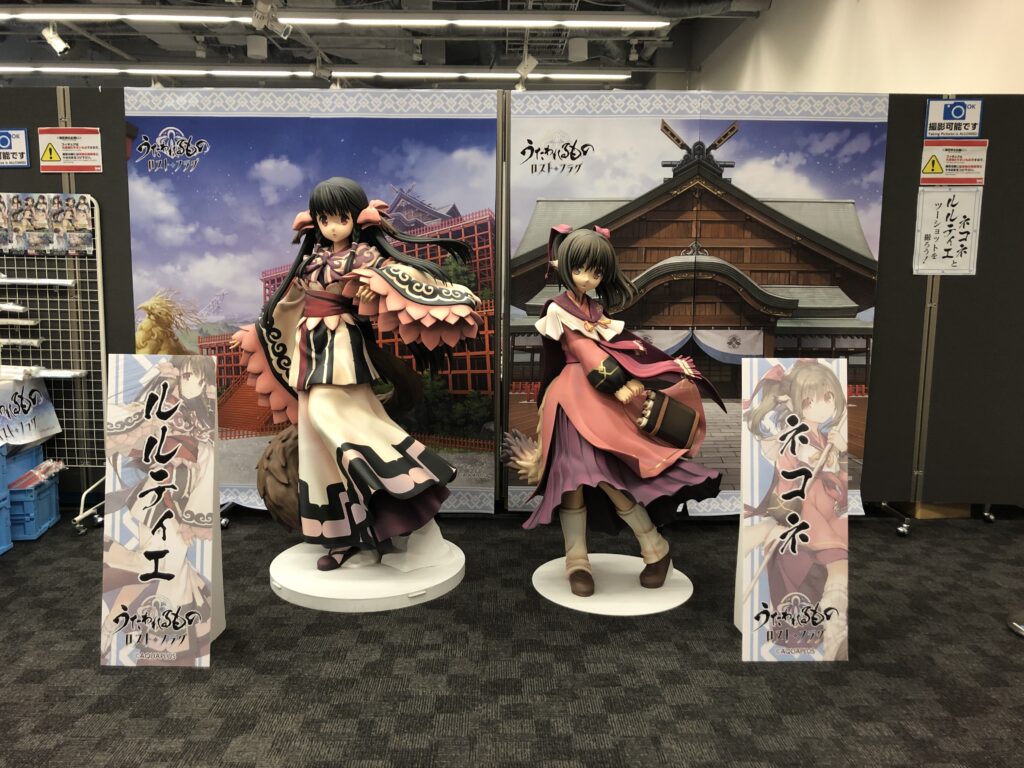 There's Aquaplus corner, HOTLIMIT/GOT corner, Tony Taka corner, some doujins, Eshi100 goods, and others.
I didn't buy anything but at least got to see what kind of censor some of the tapestries have. And it looks like for HOTLIMIT, it's not whiteout but just some blurs. Better but censor is bad.
Similarly for Cute Tail tapestries. At least from what I can tell from the label photo. Could be different but I'm not risking it.
Eshi100 was next and it's Eshi100. I don't think there's any change (apart of the illustrations themselves of course) over the last few years. If anything, one can't go back to gallery area after purchasing stuff. Thanks, covid.
As I was heading for Sofmap to check on Sagaplanets stuff, there's a random Type-Moon's Fate/Extra booth.
There's car on display as well as some figures. And announcement of Illya Prisma Racing figure.
Onward to Sofmap! There I found they're displaying bonus tapestries without any coverings. That was nice. Can't wait to get my hand on them.
I also found the mug cup which I've kind of planned to buy and then I went to Yuzusoft Shop.
I don't actually remember where it is apart of the building says "May Peace Prevail On Earth". Except it's tiny so I regularly miss it. I didn't actually want anything so it's mostly just to see if there's something I missed (and nope).
And that's about it on my little trip yesterday. Oh, and it was closed by watching FSN HF3 thanks to good timing and empty seat.
Lastly, I noticed this time's Popfes specifically says "summer" so there might be another one this year in winter.